BY JOAN WANJIKU,NAIROBI,25TH JAN,2022-Thousands of commuters were left stranded on Tuesday morning, January 25, 2022, after train services were paralysed.
Commuters who depend on the Kenya Railways train services plying the Kitengela-Pipeline-Donholm-Makadara route failed to get to work on time.
Reliable sources say  that the train which plies that route was stuck due to a mechanical fault.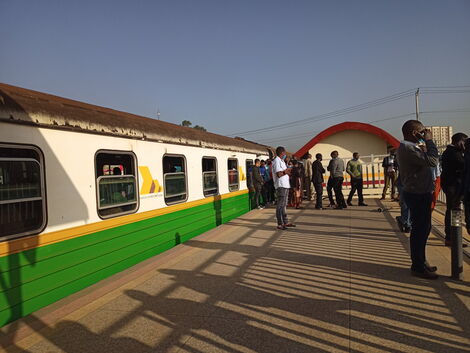 Commuters stranded as Embakasi Village -CBD train stall at Donholm station on Tuesday morning, January 25, 2022.
COURTESY
Nairobi residents took to social media to complain and noted that they could not get to their workstations on time.
Others raised issue with the Kenya Railways officials who were mum on the matter, accusing them of not providing the necessary answers.
Kenya Railways has also been put on the spot over the recent stalling of its trains due to mechanical faults. In October 2021, passengers using the train from Lukenya were left stranded after the train they were travelling in stopped mid-journey.
The passengers lamented that the train had stalled for more than an hour.
In a statement, Kenya Railways explained that the train had stalled due to a mechanical problem and technicians were working to restore the services.
"We are experiencing an undue delay on our train plying the Lukenya station to Nairobi Central station route due to a mechanical problem.
"Our technicians are attending to it and we will resume the trip shortly. We sincerely apologize for the inconvenience caused," read the statement in part.
After her maiden trip to Kisumu City, the newly launched train also stalled on December 21, for close to four hours around the Tamu area in Muhoroni.
Kenya Railways apologised for the delay and explained that the train had stalled because of the heavy rains that had been experienced in the area.
In the statement, Kenya Railways added that the issue had been resolved at the time they issued the statement adding that the passengers had embarked on their journey to Kisumu.