BY JOAN WANJIKU,NAIROBI,11TH JAN,2022-There was shock and disbelief  On Tuesday, January 11, as photos surfaced showing a man chained to Deputy President William Ruto's office gate.
Reports indicated that the man, Lawrence Amuke Oprong, arrived early in the morning with a chain and padlock prior to confining himself to the gate.
Amuke told journalists that he is the son of former Economic Planning and National Development Assistant Minister and Busia North MP, Fredrick Oduya Oprong, who died in 2019 after falling ill.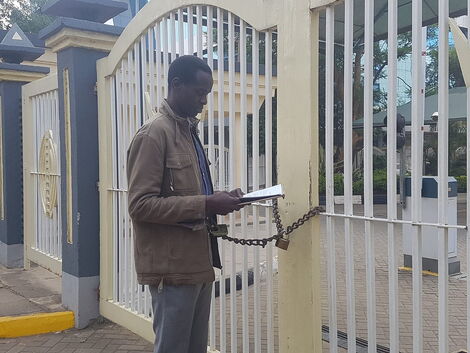 Lawrence Amuke Oprong at the gate of DP William Ruto's office in Nairobi on Tuesday, January 11, 2022
TWITTER
Further, he revealed that Ruto had promised him a job but he had not fulfilled it to date. This left him with no other option but to camp at the DP's Harambee Annex office where he staged a protest.
Amuke explained that he would only release himself after the DP listened to his plight. Officers at the DP's office reportedly tried to remove him from the scene but were unsuccessful.
However, plain cloth officers later on allegedly arrested Amuke after breaking the chain using a hacksaw.
He was taken to Central Police Station and released shortly after recording a statement. Amuke will be charged with causing public disorder.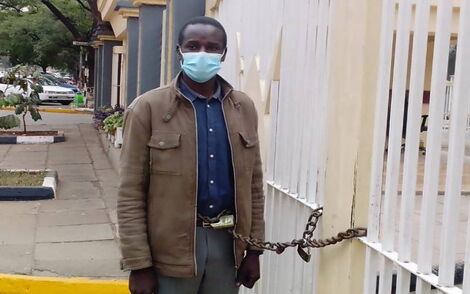 Lawrence Amuke Oprong at the gate of DP William Ruto's office in Nairobi on Tuesday, January 11, 2022.
TWITTER
In a rejoinder, Ruto's Spokesperson Emmanuel Taalam revealed that the matter was swiftly handled.
"The DP has sorted the issue and asked his office to look into the young man's case," Taalam stated.
According to a survey conducted by the Kenya National Bureau of Statistics (KNBS), the number of unemployed youth increased by 58.6 per cent to 1.8 million in 2021.
Unemployment is among the key agenda for top Presidential aspirants as the country gears towards the August 9, 2022, General Election.
DP Ruto promised to change the country's economic model from grassroots through the Bottom-UP approach, creating jobs for the youth while Orange Democratic Movement leader, Raila Odinga pledged to offer a Ksh6,000 stipend to jobseekers.