BY JOAN WANJIKU,NAIROBI,11TH JAN,2022-The Kenya Power and Lighting Company (KPLC) has responded to the widespread blackout that has affected various parts of the country.
In a statement dated Tuesday, January 11, Kenya Power stated that it had lost power supply following the collapse of a tower at the Kiambere – Embakasi power line.
"We have lost power supply due to collapsed towers at the Kiambere – Embakasi high voltage transmission power line at 10:45am this morning," read the Kenya Power statement in part.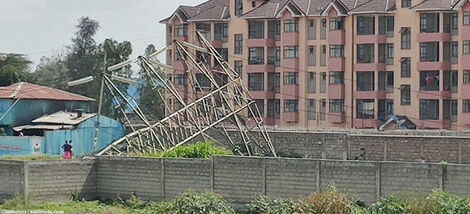 The Kiambere- Embakasi high voltage transmission power line tower collapses on Tuesday, January 11.
COURTESY
"Our engineers are working to restore electricity supply as repairs are being undertaken."
According to , Immaculate Kubai, the Corporate Communications Officer at Kenya Power, noted that the issue had affected major parts of the country but affirmed that it would be resolved soon.
"Yes, a transmission power line has collapsed around Embakasi but it is being worked on. It's a national blackout, so when the main line collapses most of the time it affects the supply hence they are trying to stabilise the grid before they embark on supplying to the country," she noted.
Kenya Power has been trending for the past 48 hours with the majority of Kenyans taking to their social media platforms to lament on the power outage that had caused blackout in some parts of the country.
The power outage comes days after the Ministry of Energy confirmed a 15 per cent reduction in electricity cost in order to cushion Kenyans from the high cost of living. This was also to fulfill a pledge by President Uhuru Kenyatta.
The Ministry noted that the reduction of power cost took effect on January 1, 2022, and would run till December 2022.
"The Ministry of Energy hereby confirms that the Kenya Gazette of January 7, has effected a 15 per cent reduction in power tariffs. The reduction will boost livelihoods and economic growth by reducing the cost of living," read part of the Ministry's statement.