BY JOAN WANJIKU,NAIROBI,10TH JAN,2022-The Kenya National Highway Authority (KeNHA) on Monday, January 10, announced the closure of a section of Lang'ata Road for five days
In a traffic advisory released by KeNHA, it announced that the road will be closed at the T-Mall Roundabout from January  10 to January 15.
The affected section is the stretch from Weston Hotel to the intersection of Lang'ata Road and the Raila Odinga Way.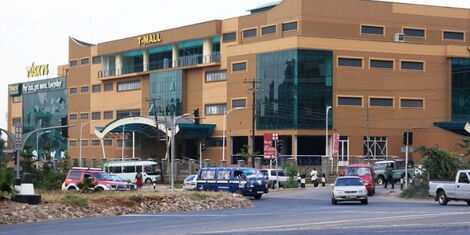 An Image of the T-Mall Roundabout on Langata Road.
KENYA BUZZ
KeNHA explained that the closure will pave way for the erection of the T-Mall Flyover.
"The road will be closed on Monday, January 10 to Saturday, January 15.
"Works will be scheduled to take place  at night from 9.00 pm to 5.00 am throughout the construction period," read the statement in part.
The highway authority shared a proposed traffic management plan that would see traffic be diverted onto the on-coming lane as illustrated in the shared poster.
In line with this, the highway authority advised  motorists to cooperate with police and traffic marshals stationed in the section of the road.
"Motorists are further urged to exercise caution and road courtesy while driving at the road for better management of traffic," KeNHA noted.
To beat traffic at the section, motorists can join Mai-Mahiu road, turn right at Magharibi suites, and head towards Five Star Road which joins Lang'ata road just before the Wilson Airport junction.