BY JOAN WANJIKU,NAIROBI,8TH NOV,2021-The family of missing Kenyan lawyer, Prof. Hassan Nandwa, has announced that they have found him in Mwingi, Kitui County.
The lawyer was found dumped at a bush in Mwingi by unknown people, alive but in a terrible condition.
According to the report given by the residents, he was dropped by unknown people at 1pm, but recognized on Monday early morning, November 8.
They have however reported that his client, ex-convict Elgiva Bwire, an alleged Al Shaabab militant who had just been released from prison is still missing.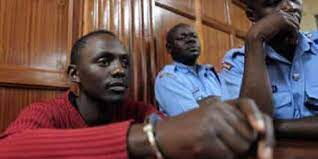 An image of terrorist ex-convict Elgiva Bwire in court/COURTESY
The two were reported missing on Thursday, October 28, after CCTV cameras captured police officers in plain clothes storming into Nandwa's house.
They were abducted together with Jacinter Bwire, sister-in-law to former Westlands Member of Parliament, Fred Gumo and her driver.
However, Jacinter and her driver were released by their kidnappers on Sunday, October 31, but did not provide any details about the lawyer and his client.
The police spokesperson, Bruno Shioso denied the claims that police officers were involved in the dissapearance of Nandwa.
He however stated that the officers were doing all they possibly can to track him, as he was considered a criminal.
"It is unfortunate that Prof Hassan Nandwa is a victim of crime. Police are doing all they can to trace him and reunite him with his family without harm," Shioso stated.
On Tuesday, October 2, the High Court ordered the National Police Service to produce the muslim scholar, together with his client Bwire in 24 hours.
They further ordered the tele-communication service provider to provide all the calls made and received by the professoe between October 28, and November 7.