BY JOAN WANJIKU,NAIROBI,8TH NOV,2021-The Jubilee Party has on Monday, November 8, announced the date of the National Delegates Convention.
In a statement released by the party Secretary-General, Raphael Tuju, the ruling party stated that the convention would be held on November 30, 2021.
The NDC will be held in Kasarani in line with the party's constitution.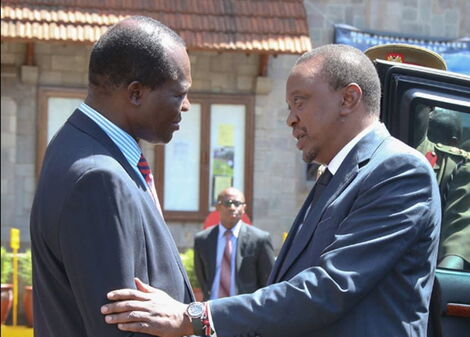 President Uhuru Kenyatta (right) with Jubilee Secretary-General Raphael Tuju (left) at the All Saints Cathedral, Nairobi in October 2015
FILE
"Pursuant to Article 7.1:1 and 7.1:2 of the Jubilee Party constitution, a meeting of the National Delegates Convention shall be convened at 10.00 am at Kasarani," the statement read in part.
Tuju also gave notice of the agenda of this year's NDC. The convention will seek to review, formulate and, or approve all policies of the party.
In addition, the meeting will see the consideration, amendment, reviewing and possible ratification of Jubilee's constitution to ensure it complies with the Constitution of Kenya, the Political Parties Act and the Elections Act among other laws.
The party will also consider, amend, review or ratify the party rules and regulations to ensure compliance with the three.
During the convention, Jubilee will also consider matters referred to the NDC by the National Executive Committee or the National Governing Council.
The announcement falls in place with the party's plan to discipline perceived disloyal party members. This includes a a splinter group of leaders who have joined Deputy President, William Ruto, who no longer sees eye-to-eye with party leader President Uhuru Kenyatta.
In a letter dated November 4, the Jubilee Parliamentary Caucus made clear its intention to shake up its leadership. The caucus made it clear that the DP and all his supporters who had decamped to the United Democratic Alliance (UDA), would be kicked out of the party.
Despite being linked with the UDA, Ruto, who also doubles as the Deputy Party leader, has insisted that he was still a member of the Jubilee party.