BY NAMULONGO PETER,NAIROBI,1ST OCT,2021-The presidential campaign of the Orange Democratic Movement (ODM) leader, Raila Odinga, received a boost on Friday, October 1, after he was gifted a fleet of vehicles.
Raila received the vehicles donated to him by Homeboys Entertainment in partnership with businessman, Bernard Waore.
The vehicles were presented to Raila at his Chungwa House in Nairobi and will bolster his 2022 presidential campaigns.
The Homeboys Director of Entertainment, Mike Rabar, said the vehicles were fully fitted with the state-of-the-art sound system, adding that they will go a long way in boosting the audibility of the former Prime Minister's campaign during the electioneering period.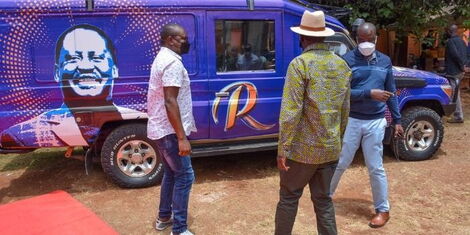 Businessmen donate campaign vehicles to ODM leader Raila Odinga on Friday, October 1, at Chungwa House
TWITTER
In addition to the vehicles, Raila received three thousand face masks, hand sanitizers, and protective gowns to be used by the party during the campaign.
The items were donated by businessman Samuel Oliech Omolo, an industrialist engaged in manufacturing of sanitizers and medical equipment.
Speaking during the event, Raila urged Kenyans to continue adhering to the Covid-19 containment measures and directives issued by the Ministry of Health to curb the spread of the virus.
He warned that the election period would have a lot of human activity, hence the need for everyone involved in the campaigns to take necessary precautions.
In addition, the ODM leader pushed for issue-based campaigns which he noted would give hope and not lead to divisions among Kenyans.
He observed that Kenyans, especially the youth, feel disenfranchised and disenchanted as a result of unemployment.
Further, Odinga advocated for mechanisms to create jobs and other opportunities for them to feel part of the nation building.
Businessmen donate campaign vehicles to ODM leader Raila Odinga on Friday, October 1, at Chungwa House
TWITTER