BY JOAN WANJIKU,NAIROBI,1ST OCT,2021-Gospel musician, Linnet Munyali Muraya alias Size 8, has revealed that she was forced to terminate her pregnancy following a doctor's recommendation.
The singer underwent surgery at a city hospital after she was rushed to the facility over high blood pressure and fluctuating body temperatures.
She revealed that her doctors had worked tirelessly to get her condition under control so that she can carry the pregnancy to full term. However, their efforts to bring down the blood pressure did not result in much success.
The singer revealed that the doctors advised her and her husband, DJ Mo, to terminate the pregnancy and save the mother's life following the abnormal blood pressure.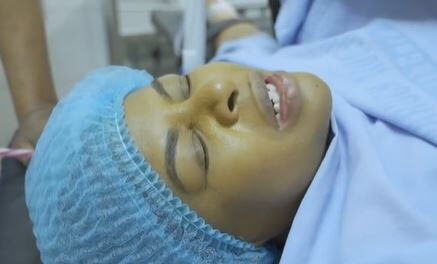 Singer Linnet Muraya alias Size 8 in hospital undergoing surgery
INSTAGRAM
"My blood pressure hit high levels and it was abnormal. Doctors tried all their best to bring it down but it still kept fluctuating which was dangerous."
"They even administered different medicine to no avail. Currently, my pressure is still high and I had to undergo emergency surgery," Size 8 stated.
DJ Mo revealed that his wife had been battling high blood pressure for five months and doctors recommended the emergency operation.
The mother of two expressed her disappointment for losing her would be thirdborn.
"I am grateful for life! I would have passed on but you (God) choose to save me. Though my little one didn't make it, I know she is well in your hands," she stated.
The acclaimed gospel artist said although disappointed, she was happy with the support she received from her family.
"I am positive because I have life in Wambo and Junior (referring to her kids) and my husband. I am victorious because I have life and I will not complain. I did not pass away despite the high pressure," she added.
The Constitution of Kenya allows women to terminate pregnancies if the life of the mother is at risk.
The Constitution states that termination of pregnancies is illegal unless "in the opinion of a trained health professional, there is need for emergency treatment or the life or health of the mother is in danger, or if permitted by any other written law".
Although the Constitution eased access to abortions in 2010, it firmed stigma about the procedure meaning that many women resort to traditional practices or backstreet clinics which put their life in jeopardy.