BY NEWS TEAM,13TH SEPT,2021-At least twelve people have been injured after a building under construction collapsed in Mamboleo area of Kisumu County.
Moments after the collapse of the building, neighbours pulled out a mother and her young one who had been trapped in the rubble.
The twelve were rushed to Jaramogi Odinga Teaching and Referral Hospital where one is said to be severely injured from a metal bar piercing.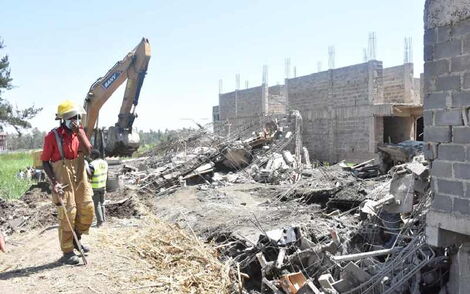 Rescue efforts during the collapse of a building in Mamboleo Area , Kisumu County September 13 2021
TWITTER
It is said that three people from the same family were trapped under the collapsed building. They include a female food vendor, her husband who was a mason at the cite and their toddler.
Police officers drawn from Mamboleo Police Station are leading the rescue efforts.
According to Mr. Amos Musau, the National Construction Authority (NCA) Central Nyanza Regional Coordinator, the collapse might have something to do with the design of the building which was being constructed in a swampy area.
The NCA engineers added on September 3 sent a stop order to the building as it had developed cracks and started crumbling due to foundation subsidence.
This comes after a dangerously leaning five-storey residential building in Kinoo, Kiambu County, was brought down on September 6 as per orders from the county government and the National Construction Authority (NCA).
Three people lost their lives as they were trapped while the Kinoo building collapsed on Friday, September 3.
The report by the National Disaster Management Unit Director Duncan Ochieng, noted the Kinoo building had been approved by the Kiambu County Government
The Engineers Board of Kenya (EBK) is pushing to have fully equipped offices that will be tasked with approving architectural designs in all 47 counties across the country.
Kiambu Governor James Nyoro noted earlier that he was going to convene a meeting with a Council of Governors to push for the formation of county task forces that will be approving the construction of buildings in collaboration with the National Construction Authority of Kenya (NCA).