BY JOAN WANJIKU,NAIROBI,23RD JULY,2021-Political blogger Robert Alai was taken to the Kilimani police station after allegedly assaulting singer Ringtone in Kilimani on Friday, July 23.
According to Ringtone , Alai accosted him at a roundabout and overtook him but when he saw the singer, he drove right into him and crashed his vehicle.
In a case of road rage, Alai got out of his vehicle with a wooden club which he used to allegedly hit ringtone on the face with. In videos that has gone viral on social media , the blogger was holding the weapon while he attempted to leave the crime scene.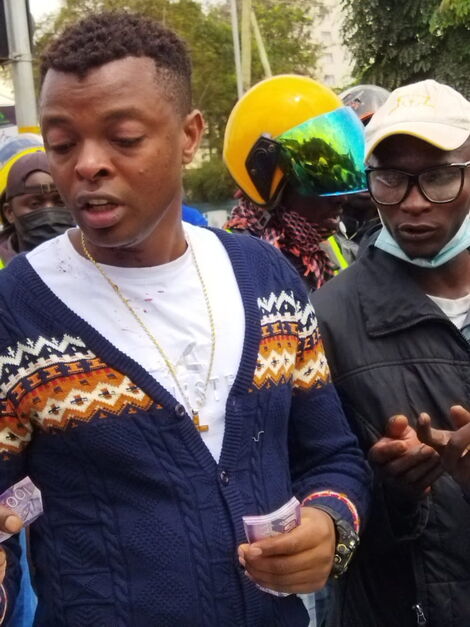 Singer Ringtone awarding boda boda rider who saved him from Robert Alai on Friday, July 23
TWITTER
However, boda boda riders blocked his way until cops got to the scene. Ringtone recorded a statement at the Kilimani Police station and proceeded to the hospital to get his injuries treated. Our calls to Alai went unanswered.
When the videos surfaced online, netizens speculated that it could be a stunt for an upcoming project from the musician but  officers from Kilimani police station confirmed that a case had been filed.
Officers divulged that sleuths from the Directorate of Criminal Investigations were probing the matter to determine whether Alai will be charged with assault and malicious damage.
Alai is no stranger to controversy and arrests. In 2019, Alai was arrested and taken to the Directorate of Criminal Investigations(DCI) headquarters, after he posted gory photos of eight AP officers who died after their vehicle ran over an improvised explosive device (IED) in Khorof Harar, Wajir County.
Then police spokesman Charles Owino in a warning highlighted that some individuals lacked respect for the departed as well as displayed insensitivity to their families, the NPS fraternity, and the entire nation of Kenya.
"Let this be a warning that such unpalatable acts shall not be tolerated," he asserted.
"The unfeeling act of posting pictures of our fallen heroes online by one blogger is very unfortunate and inhumane. It is not only unpatriotic but is equally uncouth and unacceptable," Owino divulged.
But Alai tweeted that he would not be silenced citing that he was fighting for the plight of police officers.
"I will continue to speak out for the poor police officers who are neglected and their allowances taken by "wakubwa." We must give our men and women who die wearing uniform, respect, dignity and honour they deserve. We shouldn't treat our cops like dogs. I am angry!!" he wrote