BY KORIR JUMA,NAIROBI,22ND JUNE,2021-A group of youth from informal settlements on Tuesday, June 22, came to the defense of the road signage named after Central Organization of Trade Unions (COTU) Secretary General Francis Atwoli.
The group consisted of people from Mukuru kwa Yaba, Korogocho, Dandora, Mukuru Kwa Reuben, Kariobangi and Ruaraka. The youths from different parts of Nairobi met up and came up with another road sign replacing the initial one.
Addressing the press, the group cautioned the public on attempting to take down the road sign stating that they would sleep next to the signage.

Photo of the youthful group addressing the press in front of the Francis Atwoli road sign at Kileleshwa Estate taken on June 22, 2021.
YOUTUBE
"We are here to show Atwoli love because he is one of us from the ghetto who has succeeded and we look at him as a role model," commented the spokesperson.
The group's spokesperson also highlighted their efforts in raising money for the road sign.
"We saw criminals denying our leader a peace of mind by destroying his road signage which is why we contributed money and built him another signage," the youths mentioned.
The Nairobi County Government honoured Atwoli with a road named after him in the upmarket of Kileleshwa which was unveiled on May 27, in the presence of Nairobi Deputy Governor Ann Kananu.
The honour came just months after a road previously known as First Avenue in Eastleigh, Nairobi, was named after the late Garissa Senator Yusuf Haji.
Since its installation, the road sign has been vandalised twice having been taken down and lit up in flames. The sign was reported to have been defaced after the road was renamed in honour of COTU Secretary-General.
Atwoli issued a statement expressing his sentiments on the incident. "Bringing down an honorary road sign under my name doesn't hurt me. On the flip side, it will haunt those who are behind it for life,".
In May 2021, Atwoli reinstalled it after it was pulled down and warned that suspects would face dire consequences once arrested.
He also cautioned that he installed a CCTV camera in the area for security purposes. "If you think you came from the moon go try to remove it again," Atwoli dared his critics.
He extended further stating the signage was an act of honour bestowed to him taking into account his many years of service.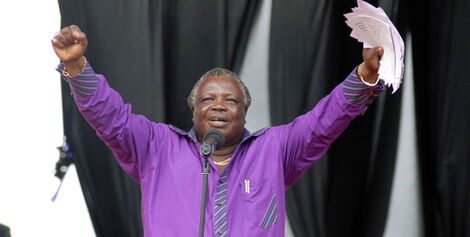 COTU Secretary General Francis Atwoli during a past Labour Day celebration