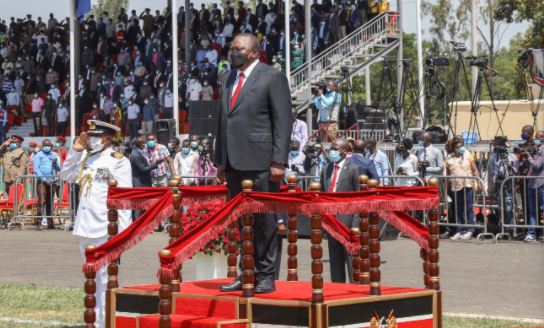 BY NAMULONGO PETER,NAIROBI,1ST JUNE,2021-Differences over the Building Bridges Initiative and the role of the judiciary came into play  during theis year's  Madaraka Day fete at Kisumu's Jomo Kenyatta International Stadium.
It first came out when Deputy President William Ruto, upon completing his speech, extended the invitation to the president.
But Uhuru, who casually thanked Ruto with a simple "Asante William", apologised in advance for he was about to break protocol.
And, broken it was broken when he invited ODM leader Raila Odinga to address the crowd before calling upon Burundi's President.
It featured again in President Uhuru's speech when he took a jab at the Judiciary, which he said had continued to test Kenya's Constitutional resolve.
He said Judiciary ought to have asked itself if indeed Kenya can truly be a democracy.
"From the nullification of a presidential election in 2017 and an attempt to subvert the will of the people through BBI, the Judiciary has tested our constitutional limits," Uhuru said.
He also questioned the conditions with which the High Court based on when it ruled against the Constitutional Amendment Bill, 2020 last month, declaring it null and void.
"We initiated the BBI process, if the Court had considered the burden of choice, the Judiciary would have asked itself various questions before dismissing the Bill," he added.
He said every citizen ought to know that BBI is good for the country, even those afraid of it.
"Let it be clear to Kenyans that short-termism is not the path to political stabilization," Uhuru ended.
Deputy President William Ruto seemed to take a different approach when he asked Kenyans not to let ethnic bigotry destroy the rule of law.
"We are reminded that our forefathers worked hard so that we can have a democratic nation. We can all celebrate the firm foundation of the rule of law not rule of men," he said, lauding President Uhuru on his two days' launch of various projects in Kisumu.
"It is a testimony that there is a government that works and delivers. It goes to show that a government that delivers brings a country together," Ruto noted.
When it was his turn to speak, former Premier Raila Odinga shone with a history lesson as he revisited Kenya's struggle of independence, reminding the crowd of the journeys of Kenya's First President Mzee Jomo Kenyatta, and historians Mwalimu Julius Nyerere, Tom Mboya, Kenneth Matiba, Paul Ngei among others.
He credited their struggles and outcomes to what he and the president are trying to achieve through the March 2018 handshake.
"The handshake has given us an opportunity to bring Kenyans together and enhance development across the country, this is what we want," the ODM leader said.
Raila also appealed for the support of the BBI saying, "We must remain united and support BBI which will bring unprecedented development in the country."