BY NAMULONGO PETER,NAIROBI,28TH APRIL,2021-The Communications Authority of Kenya (CAK) on Wednesday, April 28, took stern action against Mt Kenya TV over the recent airing of inappropriate content on a children's program.
CAK directed the station to go off air from midday Wednesday, April 28 for a minimum period of four weeks. The station will only be allowed to go back on air after it has complied with all compliance issues.
Further, CAK imposed a fine of Ksh500,000 noting that the station had compliance issues that had been raised for over 120 days. The authority advocated for all compliance issues to be resolved within 30 days.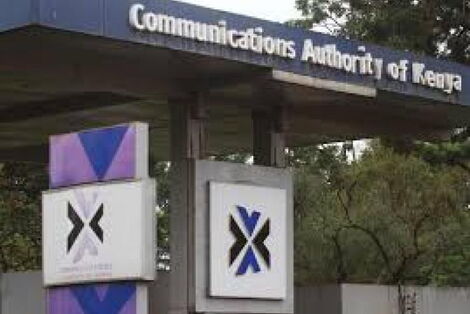 Communications Authority of Kenya (CAK) headquarters.
DAILY NATION
The station was ordered to review its internal controls on access to the system for queuing and scheduling of its programmes to prevent the reoccurrence of the issue. They are to provide evidence to the authority in seven days.
CAK directed all the staff to undergo training on programming code within seven days. Further, the station was to review its editorial policy in order to align it with the laws protecting children against inappropriate content.
Mt Kenya TV was also directed to ensure that all its presenters are accredited by the Media Council of Kenya and evidence of compliance to be filed with CAK within seven days.
The news comes as Kenya Film Classification Board (KFCB) CEO Ezekiel Mutua had vowed that strict action would be taken against the station.
"The timing of airing such explicit content disguised as a children's program is a serious offense…it exposes children to adult experiences," Mutua stated.
MT Kenya TV had issued an apology to its viewers after concerns raised by Kenyans over explicit content aired during the watershed period.
"We are requesting for your forgiveness following mature content that was aired on one of the children's programs. We have taken the necessary steps to ensure that it does not happen," read the station's apology.
Mutua however, noted that punishment taken against the station would serve as a lesson to other media houses.
"It should be noted that although the program has been pulled down, the violation has already been committed as the content had not been submitted to the Board for examination and classification in line with the Films and Stage Plays Act Cap 222 of the laws of Kenya," Mutua stated.