Tragedy has struck  Kirinyaga county after a man and woman  drowned while taking selfies at the banks of River Nyamindi in Mbiri, within the  County.
The  sad incident occurred  on Sunday, April 4 in the evening while on an outdoor activity to celebrate Easter festivities.
Gichugu Sub-County DCI boss Millicent Ochuka said that witnesses warned the couple several times about the danger of standing too close to the river bank but they ignored the warnings.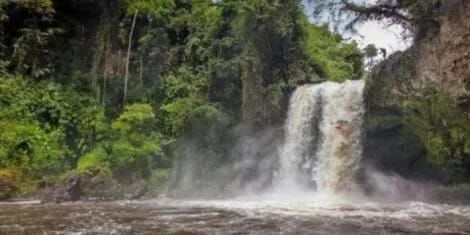 A section of the Nyamindi River in Kirinyaga County
FILE
The residents also told the police that the area was known to be a dangerous spot hence prompting some of the witnesses to warn the couple that they could slip and fall in the river.
Residents further revealed that they watched the two happily and slowly moving toward the banks of the river while taking pictures.
Moments later, they both slipped and fell in the river which had raging waters due to the ongoing heavy rainfall.
"It was then that we rushed to the scene and tried to rescue them in vain. They were clinging to each other. It was a very sad and emotional incident," Eliud Muriithi, a resident in the area said.
According to another witness, tens of residents dived into the river in an attempt to rescue them. However, they couldn't find them despite long hours of a thorough search even after involving the police.
A DCI report seen by Nation reveals that some of the residents had called them out warning them to be careful but their warnings did not make any difference.
The DCI boss has asked visitors and residents to stay away from the river banks during the rainy season because other cases had been reported in the past.
The search for the couples continues as the officer also looks for additional information to see if they can establish their identity.