Central African Republic: War crimes trial of two ex-militia leaders starts
379 total views, 1 views today
BY BBC NEWS,16TH FEB,2021-The former head of the Central African Republic (CAR) football federation, Patrice-Edouard Ngaïssona, has pleaded not guilty to war crimes charges at the International Criminal Court (ICC).
Mr Ngaïssona, who led a mainly Christian anti-Balaka group, also denied crimes against humanity charges.
He and Alfred Yekatom are accused of co-ordinating attacks against the country's Muslim population in 2013-14.
Violence continues to grip CAR, two-thirds of which is in rebel hands.
The former French colony was plunged into turmoil in 2013 when predominately Muslim rebels from the Seleka group seized power in the majority Christian country.
A band of mostly Christian militias, called the anti-Balaka, rose up to counter Seleka after then-President François Bozizé was ousted.
Thousands were killed in subsequent clashes and the United Nations says more than a million people were forced to flee their homes.
Who is Patrice-Edouard Ngaïssona?
He was the self-declared political co-ordinator of anti-Balaka forces.
In this role, the ICC says, he committed war crimes and crimes against humanity including murder, torture and the recruitment of child soldiers.
Mr Ngaïssona was barred from running for CAR president in 2015 because of his alleged role in the atrocities, which he denies.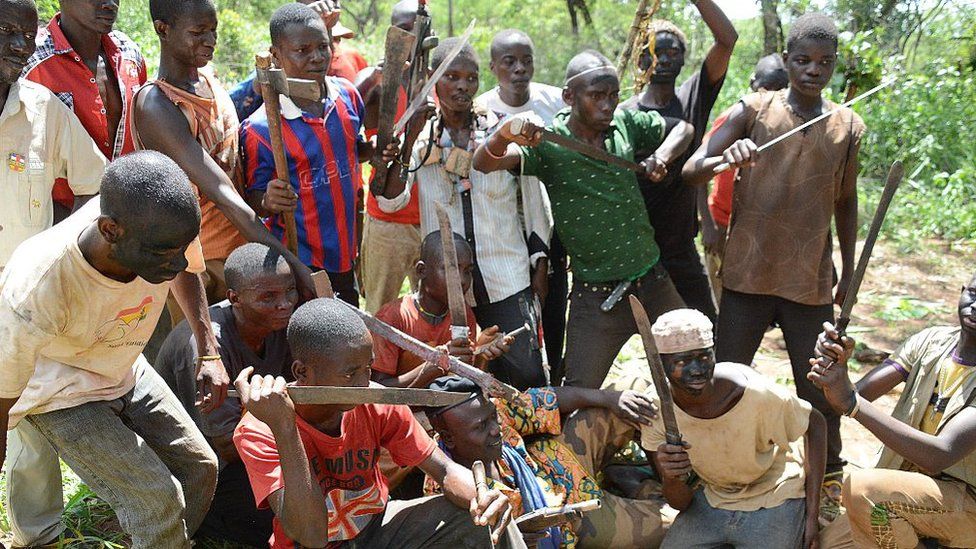 He is a former head of the CAR's football federation and briefly served as sports minister before being elected to the Confederation of African Football (CAF) in February 2018.
His appointment was criticised by several human rights groups.
"If the allegations were true, I wouldn't be here today," he told AFP news agency at the time. "[I don't] mix politics and sport – everything I've done has been for the good of my country."
French authorities arrested him in December 2018 and he was transferred to the ICC in January 2019.
Who is Alfred Yekatom?
The ICC alleges Mr Yekatom – nicknamed Rambo – was responsible for murder, torture, attacking civilians and using child fighters as a former militia leader of the anti-Balaka group.
Mr Yekatom was elected as an MP in 2016, despite being subject to UN sanctions.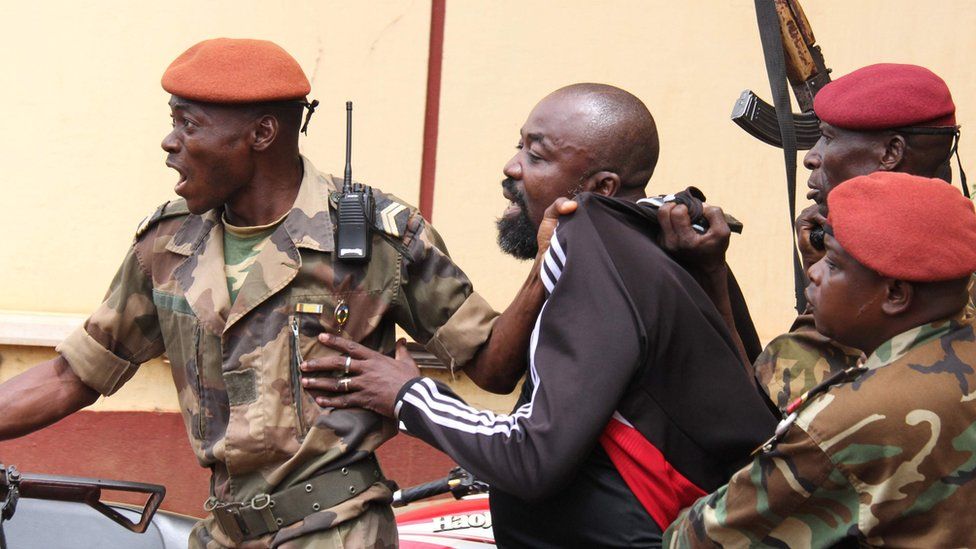 He was arrested in October 2018 after he fired a gun in parliament, then ran away, after a row with a fellow MP.
His extradition to the ICC was the first from the CAR.
The International Federation for Human Rights (known by its French acronym FIDH) said it signalled the authorities there were committed to fighting impunity.


The conflict in Central African Republic

In 2013, Muslim militias called Seleka seized power
Largely Christian fighters known as the anti-Balaka took up arms to fight back
More than a million people have since been displaced by continued fighting, and thousands killed
About 13,000 United Nations peacekeepers are deployed in the country at a cost of nearly $900m (£686m) per year in the mission known as Minusca


What's happening in CAR now?
Violence continues to beset CAR despite the arrest of the two former prominent militia leaders.
Former President Bozizé, who returned from exile in 2019, is accused of being behind the latest crisis in the mineral-rich country after the constitutional court blocked him from running in the December election.
A coalition of rebels – reportedly allied to him – have taken vast swathes of the country and threaten to enter the capital Bangui.
Mr Bozizé has denied he has links with the fighters, who refuse to accept President Faustin-Archange Touadéra won an election they boycotted. They want a rerun.
At least 12,000 UN peacekeepers backed by Rwandan, Russian and French soldiers are supporting government forces but their presence has not stopped thousands of civilians from fleeing the country.
The UN refugee agency said in January about 92,000 refugees had fled to the Democratic Republic of Congo and more than 13,000 had crossed into Cameroon, Chad and Congo-Brazzaville. It said the rest were displaced within