BY CORRESPONDENT ,10TH JAN,2021-A bus plunged into the Indian Ocean while transporting tourists in the Coastal Town of Mombasa on the morning of Sunday, January 10.
A video seen by www.upesinews.co.ke showed the bus floating in the Ocean with witnesses noting that it belonged to Pollman's Tours.
It is said that the breaks failed as the driver was trying to access the ferry at around 9 a.m.
All the tourists had alighted from the bus to allow it to access the ferry at the Likoni Crossing Chanel. The driver escaped unhurt after being rescued.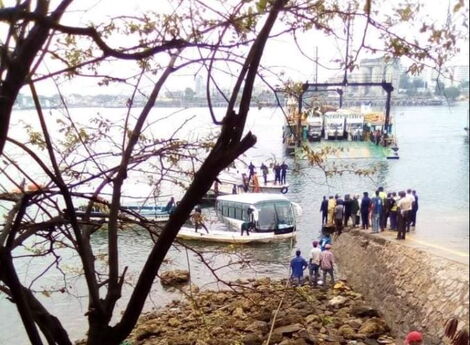 Rescuers pull the sinking bus from Indian Ocean on Sunday, January 10, 2020.
FACEBOOK
A conductor who was reported to have been on board the bus was rescued by officers on a speed boat, as the Kenya Coast Guard retrieved the bus moments later.
It was reported that the driver had intended to board the ferry headed to Mombasa island when the incident took place.
The child, however, managed to swim to safety, but the mother who was strapped to her seat took in a lot of water, and could not be saved.
The boy sustained minor injuries and was treated before being reunited with the father.
The saloon car, a Toyota Vitz, was coming from Changamwe towards Mombasa Island when the incident happened.
Ms. Achieng, who was the driver of the ill-fated car, is said to have hit a pavement before plunging into the deep waters.