Driver Smashes 2 Brand New Cars Under Overpass
317 total views, 1 views today
BY JOAN WANJIKU,NAIROBI,29TH OCT 2020-A forwarding and clearing company driver smashed two brand new land cruisers under an overpass in Thika Kiambu County on Thursday morning, October 29.
According to the  a video that has been doing round on social media, the driver unsuccessfully attempted to pass under the overpass despite having carried vehicles that exceeded the height of the bridge.
The accident which occurred at Delview Overpass created a traffic snarl for motorists driving towards Nairobi County.
The morning incident sparked a debate with a section of Kenyans accusing the driver of negligence.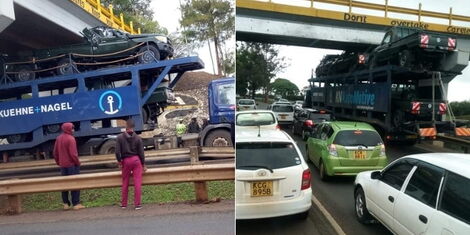 Scenes from the accident scene in Thika County on Thursday, October 29, 2020
TWITTER
A new Landcruiser truck averages between Ksh 3 million and Ksh 3.5 million without other costs incurred.
Some observers blamed the Kenya National Highways Authority (KeNHA), accusing them of not indicating signage to highlight the height of the bridge.
Availing signages from road symbols and traffic symbols is a key obligation for the authority.
They aid in warning motorists of potential dangers while providing them with necessary information like speed limits and climbing lanes.
The clearing and forwarding company, Kuehne Nagel, and KeNHA  are yet to commend on the incident .
According to KeNHA, road over bridges have a minimum clearance of 5.5 metres from the road crown to the soffit of girders, beams or deck.
The minimum horizontal clearance from road shoulder to the inner edge of the pier or abutment is around 2.0 metres.