Bumula MP Moses Mabonga Involved in Road Accident
245 total views, 3 views today
BY NAMULONGO PETER,NAIROBI,30TH JUNE,2020- Bumula Member of Parliament Moses Mabonga was involved in a road accident on Tuesday morning, June 30.
K24 was among the first to report that the accident occurred at Timboroa on the Eldoret-Nairobi Highway.
The independent MP escaped unhurt. However, it has not been ascertained whether he was rushed to the hospital or admitted.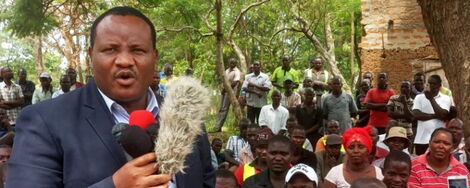 Bumula MP Moses Mabonga addresses a gathering in Busia County in 2018
FILE
Mabonga was reportedly travelling to Nairobi on his way from Busia.
Photos of his vehicle, a black Landcruiser V8, indicated that the vehicle rammed into an object from the front on the driver's side.
The bonnet was smashed with the front lights also damaged.
The MP is famously known for asking President Uhuru Kenyatta to fire his entire Cabinet, and all corrupt public officers, after the Head of State fired former Sports CS Rashid Echesa.
"We are yet to be told what Echesa, the only Luhya in the Cabinet did. We can do much better than these people moving around you," he stated.
In June 2019, he warned Kenyatta against isolating Deputy President William Ruto from the government.
"Even in 2013, when everyone else hurled insults at him for supporting you, he (Ruto) did not waiver. In the 2017 elections, this man being humiliated while you are silent still stood by you Mr.President.
"In the bible, the King once had a dream telling him to look into his books of records since a man called Mordecai is about to be killed and yet he helped you be a king. So today, you are the King in this context and therefore I am urging you to look into your books of record and see how far you and Ruto were a formidable pair," the MP rallied Kenyatta.