Judiciary Addresses CJ Maraga Going on Leave Until Retirement
314 total views, 2 views today
BY JOAN WANJIKU,NAIROBI,16TH JUNE,2020-The Judiciary on Tuesday, June 16 addressed a widely-circulated statement indicating that Chief Justice David Maraga would be proceeding on leave on Friday, June 19.
According to the statement, Maraga had accumulated leave days more than the days left to his retirement expected in 2021. Deputy Chief Justice Philomena Mwilu was said to be taking over as Acting CJ.
The Judiciary asserted that the statement, which bore an official letterhead, was fake. The statement had claimed that the move would allow the Judicial Service Commission (JSC) adequate time to find and recruit a successor.
It came against the backdrop of publicized wrangles between the Judiciary and the Executive, wrangles in which propaganda and misinformation have played a big part.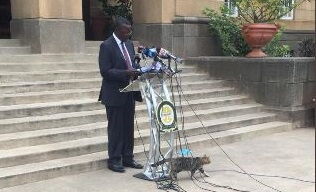 Chief Justice David Maraga during a press briefing as a cat passes by outside the Supreme Court on June 8, 2020.
On Friday, June 12, days after Maraga accused President Uhuru Kenyatta of disobeying court orders and delaying justice for Kenyans, banners surfaced castigating the CJ in various city streets.
The judiciary called for an investigation, with the banners accusing several judges of involvement in corruption.
On Sunday, June 14, Maraga voiced his displeasure after a video went viral accusing him of several hidden transgressions; including lack of objectivity in judicial appointments and an alleged affair with a female judge.
"This is how low they have sunk in their determination to undermine the Judiciary and judicial independence," Maraga wrote off the video.
The bone of contention has been the appointment of 41 judges, with Maraga stating that Uhuru's failure to appoint the judges as expected has led to a backlog of over 20,000 cases in various courts.
Through Attorney General Kihara Kariuki, the executive has, however, accused Maraga of playing to the gallery by commenting on an issue which is in court.
"Such respect and deference is seriously undermined when the honourable Chief Justice engages in frequent vitriolic attacks on His Excellency the President and the Executive, especially where the attacks are based on misrepresentations, distortions and half-truths all lumped together.
"The subject statements demonstrate that the honourable Chief Justice has failed to cultivate the spirit of constructive consultation and has instead resorted to grandstanding and populist brinkmanship, with the Executive as his bogeyman," he stated.
Kihara stated that the President's concern was informed by National Intelligence Service (NIS) reports which had identified involvement of some of the appointees and sitting judges in graft. Maraga has dared the executive to release the names of the supposedly compromised judges to the public.