Initially Wilson and Anne had used on ksh 100 on their wedding.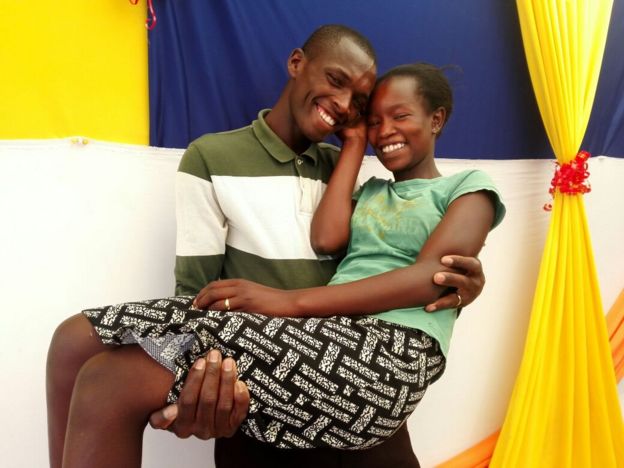 As the world marked valentine day Tuesday the couple who made history by having the most cheapest wedding at only ksh 100 have been treated to the biggest wedding ever in Nairobi.It all went down at     Eldo bliss  in Marurui  in Nairobi.As usual and as it was expected upesinews was at the scene to bring you the spectacular events as they happened.Anne Muhonja and Wilson Wanjohi  celebrated their wedding which was officiated by Reverend Joses Muriithi from Covenant Chapel Ministries in Zimmerman.Unlike their ksh 100 wedding which took place on 22nd of January 2017  at the Community Christian Worship Centre in mwiki  this second one was marked pomp and color .
This car carried the two love birds to and from the venue of the event.Take a look.
The gift of an amazing wedding was given to the two love birds by several sponsors among them Samantha bridal and Slique Events Planner Limited.The couple were later escorted to their unknown honeymoon destination.Unlike the first event which cost ksh 100,this second one believed to have cost  ksh3.5 million (US$ 35,000)
The second wedding   Wilson and Anne  done in a spectacular garden.
And as the wedding proceeded upesinews caught up with the couple  who expressed gratitude to all who had supported them this far.For Anne it is the doing of God who she says they had remained faithful to even when they dint see how it will happen owing to their humble financial ability.They urged the youth not to give up on wedding and following the right  way in entering marriage due to  lack of finances.For them all things are possible provided you both are in a agreement.
We here at upesinews wish the newly weds the very best in their future life.Do you have ant story you would like to share with us?drop us an email at info@upesinews.co.ke.you never know your story may get published on this platform.