BBC NEWS,Commons Speaker John Bercow has been criticised for voicing his opposition to US President Donald Trump addressing Parliament during a state visit.
Senior Tories told the BBC his comments had caused a lot of anger, with one saying it was "utterly outrageous" and others saying he should be impartial.
Mr Bercow said "opposition to racism and sexism" were "hugely important considerations" for the Commons.
US Congressman Joe Wilson said it was a "slap" to Mr Trump's Republican Party.
Mr Bercow is one of three "key holders" to Westminster Hall, along with the Speaker of the House of Lords, Lord Fowler, and the Lord Great Chamberlain, a hereditary peer in charge of certain parts of the Palace of Westminster.
All three must agree in order for an address to take place. Lord Fowler will address peers on the issue on Tuesday.
Last month, Prime Minister Theresa May said Mr Trump had accepted an invitation from the Queen for a state visit to the UK later this year.
However, responding to a point of order in the Commons on Monday, Mr Bercow said he was opposed to the president addressing both Houses of Parliament – as other international leaders have done. He said it was "not an automatic right", but an "earned honour".
"I feel very strongly that our opposition to racism and sexism and our support for equality before the law and an independent judiciary are hugely important considerations in the House of Commons," he told MPs.
---
Analysis
By Eleanor Garnier, BBC political correspondent
It was an unprecedented and extraordinary rebuke.
A diplomatic snub that in effect means President Trump will not be invited to address MPs in Parliament.
John Bercow's comments were applauded by MPs on the opposition benches – but critics have said he's abused his position and spoken out of turn.
Mr Bercow's decision risks undermining the prime minister's very public effort to create a new special relationship with the Trump administration.
---
Some opposition MPs applauded his comments, but senior Conservatives were highly critical.
One unnamed Tory MP and former cabinet member told the BBC that Mr Bercow "must be close to standing down", while another said his remarks had gone "way beyond what is acceptable".
Another called it an embarrassment to the Commons.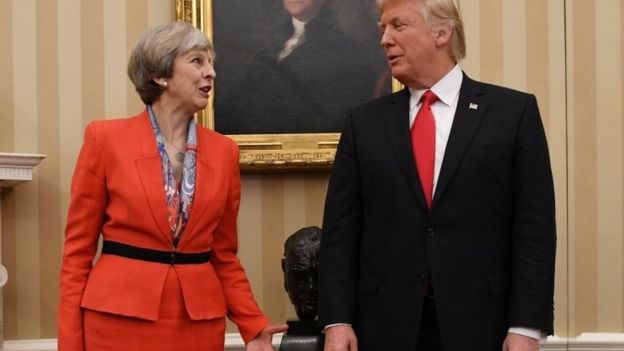 Another called it an embarrassment to the Commons.
Crispin Blunt, the Conservative MP who chairs the Commons Foreign Affairs Select Committee, said Mr Bercow was going to have to deal with "the consequences" of his comments.
He said there were "strongly held views on both sides of the argument", but added: "Generally the Speaker, who's meant to referee all of this, should keep himself above that.
"I think that's to be regretted. But it is a symptom of the controversy around this visit."
Fellow Conservative Nadhim Zahawi, who has been critical of Mr Trump's travel ban, said the Speaker prided himself on his neutrality and to become the story was "a bad place to be".
ions of hypocrisy after allowing other controversial leaders, like the Chinese president, to speak, and urged him to explain his thinking to MPs.
Republican Congressman Joe Wilson criticised the Speaker's comments, telling the BBC's Newsnight programme his interjection was "very disappointing".
"If ever in recent years there's been a more pro-British president of the United States, it's Donald Trump," he said.
He said Mr Trump had already assured Mrs May over his commitment to Nato, expressed a desire to create UK-US trade relationships, and returned a bust of Winston Churchill to the Oval Office.
"I consider it too, sadly, a slap at the Republican Party. It was the leaders of our party that actually placed the bust of Winston Churchill in the US Capitol Building and we urge all persons to come visit our Capitol Building," he added.
---
Other leaders' speeches
International leaders are sometimes invited to address both Houses of Parliament when they visit the UK
Recent examples include Colombian President Juan Manuel Santo last year, Chinese President Xi Jinping in 2015 and German Chancellor Angela Merkel in 2014
Mr Trump's predecessor, President Barack Obama, made a speech in Westminster Hall in 2011